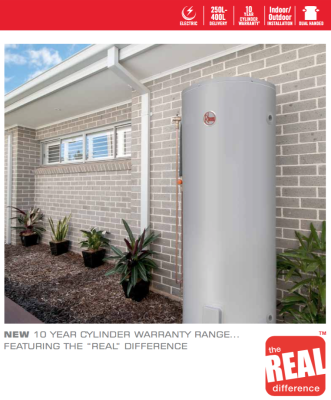 Hot Water In A Hurry installs, services and repairs Rheem electric hot water heaters in Sydney.
Here at Hot Water in a Hurry, we are now offering the new and improved lineup of 250L – 400L electric water heaters from Rheem, Australia's premier hot water system manufacturer. The new 491/492 series electric water heaters are highly efficient and built to last, with strong and durable materials and a heavy duty anode to reduce the frequency of maintenance.
Rheem is proud to be an Australian-based company with over 75 years of local manufacturing experience. That allows them to deliver a premium quality product with sacrificing on the details. The new 491/492 hot water heaters feature a new commercial-grade enamel coating for enhanced durability, embossed stainless steel pipe seals, and an anode-supporting design to reduce to chances of internal damage during installation.
Beyond that, Rheem has designed a new dome top for the 491/492 series which is stronger and more durable than ever before, even under very high temperature and pressure. Other details include dual-handed fitting and an option for twin-element models for use in high-demand hot water situations.
All this allows Rheem to confidently give their products a 10-year cylinder warranty, and makes us proud to provide Rheem products here at Hot Water in a Hurry. We provide installation and repair services for Rheem products and other hot water systems throughout the Sydney metro area. Our highly-skilled technicians are on call 24/7 to respond to hot water emergencies, and we are proud to offer a 24-hour system repair guarantee.
If you're looking to install a new hot water system in your home or business, give us a call today on 1300 426 468 to ask about the new Rheem 491/492 electric water heaters.