$500 Cash Back Bonus limited time only
For a strictly limited time you can receive $500 cash back when you purchase and install a selected Rheem Heat Pump water heater (complete unit).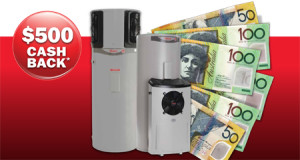 This offer is only available between the 2nd December 2013 and the 28th February 2014.
To claim your cash back simply download and complete an official claim form that can be found by clicking on the link supplied below, then attach a copy of your fully paid invoice and post it to:
Rheem Heat Pump Offer
PO Box 6
Rydalmere NSW 2116
Claim form- http://www.rheem.com.au/assets/2604/1/2565_Rheem500FAOL_LR.pdf
Don't miss out. Claim your cash back bonus today!
Terms & Conditions-
The last claims must be lodged and received by no later than 14th March 2014; see Claim Form for full Terms & Conditions relating to the offer.