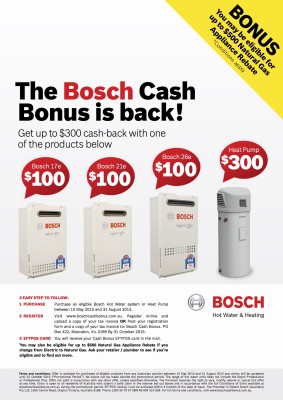 For a limited time only, Hot Water in a Hurry is offering special deals on Bosch hot water systems and heat pumps! Between now and 31 August, purchase select Bosch systems to earn up to $300 cash-back.
The Bosch 17e, 21e, and 26e hot water heaters use natural gas to deliver high-flow hot water to your home in an efficient, affordable manner.If you purchase these models from Hot Water in a Hurry before 31 August you will be eligible for a $100 cash bonus card — and you may also be eligible for a $500 rebate if you're switching from electric to natural gas!
If you're looking for the ultimate in efficiency, the Bosch Compress 3000 Heat Pump Water Heater is the way to go — and until 31 August, you can get a $300 cash rebate on this model. The heat pump uses cutting edge technology to extract heat from the ambient air and use it heat your water with 65% less energy than an electric hot water heater. It's perfect for Australia, and has won a number of awards for innovation and excellence.
We think any of these great hot water systems is a great deal, and even more so with these terrific rebates. To find out more and to learn if you qualify for these special deals, contact Hot Water in  a Hurry today.